beyond the ordinary
Gluten Washer | Glutomatic
GW 3200 Touch Screen
Touch Screen Gluten Washer GW 3200 is the newest and most modern Gluten Washing System model.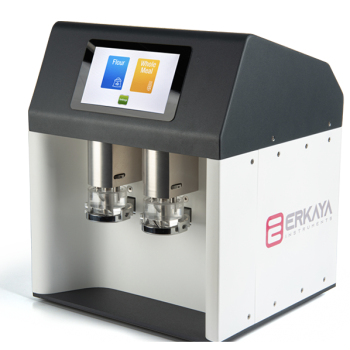 General features
Product Catalogue
Video
The world's first touchscreen
display while offering many new
benefits and enhanced features.
Gluten Washing System GW 3200
GET OFFER

CE Certified.
Touch Screen Gluten Washer. First in the world
Conforms to Official World Standards (AACC No: 38-52, ICC No: 155 and 158, 137/1).
Possibility to work with double samples.
Ease of Use.
Stainless steel box. No corrosion!
Analysis of wheat flour, wheat, durum wheat, semolina and wheat gluten.
It can be used for both ground grain and flour by growers, grain traders, flour mills, flour users, wheat gluten producers, pasta makers and bakeries.
Two different test methods (flour and crushing) in the same system
Quick analysis. A full test takes less than 7 minutes.
Kneading time and washing time can be adjusted.
Possibility to adjust the kneading time between 5 – 75 seconds and the washing time between 60 – 900 seconds.
Robust Design.
In case of explosion of the water pump hose with the channels opened on the bottom panel of the device's case, effective water evacuation is performed and electronic circuits are protected.
Separation of grain and flour as wet gluten
Power Requirement: 110 V – 60 Hz or 220 V-50 Hz (must be specified in the order)
Power Consumption: 185 W
Dimensions (WxLxH): 36-34-44 cm
Net Weight: 17 kg
Display Features: 7" Color Touch Screen
Laboratory Mill HM 210 or 310 : It is used to prepare grain samples.
Dispenser : It provides the opportunity to use the needed water easily and accurately.
Other products